A wine podcast bringing the joys of wine to wherever you are in the world. This is the place for fun, casual wine conversations, with tips, wine facts and wine tasting to inspire your next bottle of wine or vineyard visit. Listen to Winemakers, Sommeliers and Master of Wines who share their extensive knowledge, talking about wine regions and their terroir, their favourite wine pairings and winemaking techniques. This podcast is ideal for anyone starting their wine journey and studying WSET level 1 and 2 or just some great revision for those of you going even further. So grab that wine glass and lets get stuck in!
Episodes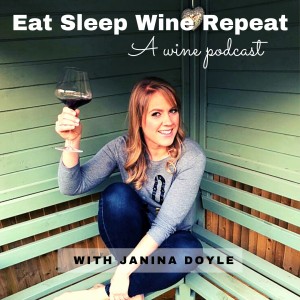 Tuesday May 24, 2022
Tuesday May 24, 2022
To download the transcript CLICK HERE
Welcome back to part 4 of our four-part series on the Finger Lakes wine region. Again I am joined by Richard Rainey, Managing Partner of Forge Cellars. He continues his reign of energy and gives us more information on Seneca Lake (the deepest, largest lake of the Finger Lakes). We will talk about why his wines have certain flavours and what the terroir has offered up. You will learn about a very surprising but amazing food pairing match for Riesling, along with conversations on petrol notes in Riesling, sustainable packaging etc! Enjoy!
If you want to skip ahead:
1.54: Talking about their naked bottles (their bit for sustainability)
5.02: Being included in The Wine Spectators top 100 wines of the year (twice)
6.53: The tough vintage 2018
8.09: The difference between Seneca Lake and the other two main lakes, Cayuga and Keuka.
13.04: The Lieu-dits of Forge Cellars
15.51: Talking about and tasting the Breakneck Creek Riesling 2020 ($26 in the US)
18.02: Petrol/Kerosine flavours in Riesling
22.09: The size of Riesling plantings compared to Other US regions and Canada
24.31: Talking about and tasting the Leidenfrost Riesling 2020 ($26 in the US)
31.35: Food pairings with Riesling and a new one: TINNED FISH
36.46: Coming to visit Forge Cellars
39.13: Actual stats on Rielsing plantings and total plantings for New York State, Finger Lakes and Washington State
Fancy watching some videos on my youtube channel: Eat Sleep Wine Repeat
Or come say hi at www.eatsleepwinerepeat.co.uk
Or contact me on Instagram @eatsleep_winerepeat or on email: janina@eatsleepwinerepeat.co.uk
Until next time, Cheers to you!