A wine podcast bringing the joys of wine to wherever you are in the world. This is the place for fun, casual wine conversations, with tips, wine facts and wine tasting to inspire your next bottle of wine or vineyard visit. Listen to Winemakers, Sommeliers and Master of Wines who share their extensive knowledge, talking about wine regions and their terroir, their favourite wine pairings and winemaking techniques. This podcast is ideal for anyone starting their wine journey and studying WSET level 1 and 2 or just some great revision for those of you going even further. So grab that wine glass and lets get stuck in!
Episodes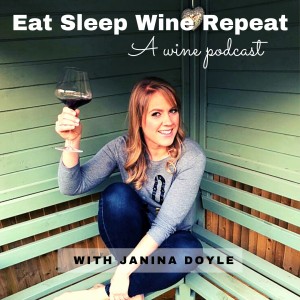 Monday Apr 26, 2021
Monday Apr 26, 2021
To download the transcript click HERE
This episode I am joined by the Global Export Director of Villa Sandi, Flavio Geretto.
Villa Sandi is one of the most important producers of the Prosecco region with an extensive history. You will learn all about them and then we will be talking about the different regions of Prosecco and specifically looking at the differences of Asolo DOCG and Valdobbiadene DOCG. You will also learn why the Cartizze Hill is considered a Grand Cru site. I will touch on the Charmat Method at the end, and by the end of this, you will have a much better idea of grape, wine styles, and the hierachy of Prosecco.
The wines we tried are all from Bella Vita Shop:
PROSECCO DOC ROSÉ BRUT MILLESIMATO "IL FRESCO" - £14.99
"ASOLO" PROSECCO SUPERIORE BRUT MILLESIMATO DOCG - £15.99
PROSECCO MILLESIMATO BRUT DOCG - £15.99
And this is the Cartizze wine that sits top of the pyramid:
"LA RIVETTA" PROSECCO CARTIZZE DOCG - £29.99
Leave me your comments and thoughts on the podcast app you are listening to or ping something across to janina@eatsleepwinerepeat.co.uk or on Instagram @eatsleep_winerepeat
Come say hi on my website and blog: www.eatsleepwinerepeat.co.uk
Or watch some more wine videos on my youtube channel Eat Sleep Wine Repeat
If you can't get enough, I would be so happy if you came to join what is currently a very small group of patreons, for your very own exclusive content, and content created based on what you ask for! https://www.patreon.com/EatSleepWineRepeat
Have an awesome week, and cheers to you!