A wine podcast bringing the joys of wine to wherever you are in the world. This is the place for fun, casual wine conversations, with tips, wine facts and wine tasting to inspire your next bottle of wine or vineyard visit. Listen to Winemakers, Sommeliers and Master of Wines who share their extensive knowledge, talking about wine regions and their terroir, their favourite wine pairings and winemaking techniques. This podcast is ideal for anyone starting their wine journey and studying WSET level 1 and 2 or just some great revision for those of you going even further. So grab that wine glass and lets get stuck in!
Episodes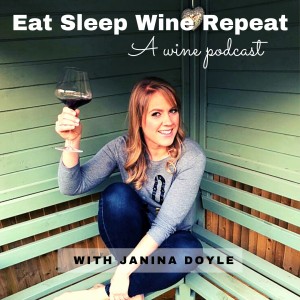 Monday Aug 17, 2020
Monday Aug 17, 2020
This is another of my Q&A episodes. Thank you to Akhila Patel and Liam Sallow for your questions. If you have a wine question, just email me on janina@eatsleepwinerepeat.co.uk and it may get featured in one of these episodes :)
This week's episode is all about Natural wine (Natty wine, if you want to feel inside the movement). 
If you want to skip ahead, see below:
1m15 - My winery of the week: Marcel Lapierre 
(Mentioned: Jules Chauvet, Climats, Lieu-dit, Côte du Py)
5m48 - Focus on Beaujolais: The history of the modern birthplace of Natural wine, Beaujolais nouveau, and the Gang of 4/5
(Mentioned: Marcel Lapierre, Jean Foillard, Jean-Paul Thévenet, Guy Breton, Joseph Chamonard)
10m36 - What is natural wine? How is it made?
20m00 - Different types of natural wine
23m52 - Focus on Georgia and their qvevri: The spiritual home of natural wine. 
(Mentioned: Pheasants Tears winery, Grape varieties: Saperavi, Rkatsiteli)
26m21 - Flavours of natural wine
29m39 - Natural wine fairs and wine books
30m33 - Does natural wine age?
(Mentioned: GlouGlou, Vins de soif, Wineries: Radikon, La Stoppa, Domaine Prieuré Roch)
As always, my email address is at the top should you want to ask me anything. You can also contact me through Instagram @eatsleep_winerepeat
Come see me at www.eatsleepwinerepeat.co.uk
or if you are feeling visual you can pop across to my youtube channel Eat Sleep Wine Repeat to learn about other grape varieties and styles.
Have a great week, and cheers to you!