A wine podcast bringing the joys of wine to wherever you are in the world. This is the place for fun, casual wine conversations, with tips, wine facts and wine tasting to inspire your next bottle of wine or vineyard visit. Listen to Winemakers, Sommeliers and Master of Wines who share their extensive knowledge, talking about wine regions and their terroir, their favourite wine pairings and winemaking techniques. This podcast is ideal for anyone starting their wine journey and studying WSET level 1 and 2 or just some great revision for those of you going even further. So grab that wine glass and lets get stuck in!
Episodes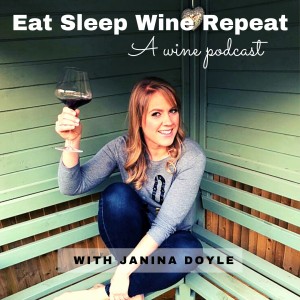 Monday Nov 20, 2023
Monday Nov 20, 2023
To download the transcript CLICK HERE
Today we have Part 2 of our conversation with the wine communicator, Luma Monteiro. After our exciting exploration of Brazilian wines last week, today's focus is on the iconic Valpolicella, Amarone, and Soave wines from northeastern Italy. Dive into the differences between Valpolicella, Valpolicella Ripasso, and Amarone della Valpolicella, all crafted from the Corvina, Rondinella, and Molinara grape varieties. Uncover the history and discovery of Recioto and Amarone, both born from the Appassimento method, and appreciate the elegance of Soave- a white wine made from the Garganega grape.
This episode is sponsored by Wickham Wines, A small business themselves focusing on top quality wines. Do yourself a favour, and go check out their online store for their amazing collection! Use the code EATSLEEP10 for 10% off your first order.
If you want to skip ahead:
01.47: Visiting the Veneto Region in Italy
02.46: The Emerging Talent Wine Communicator award
05.07: Trying all the wines In Verona
06.08:  Veneto red wines and the Corvina grape
09.42:  Chiaretto: Rosé wine from Bardolino
11.08:  The Bardolino wine region
13.14: The Valpolicella wine region
16.12: Amarone Wine
21.32: Valpolicella Ripasso
23.37: Palazzo della Torre from Allegrini
25.01: The Garganega grape and Soave Wines
29.54:  Producers of Soave wine
Any thoughts or questions, do email me: janina@eatsleepwinerepeat.co.uk
Or contact me on Instagram @eatsleep_winerepeat
If you fancy watching some videos on my youtube channel: Eat Sleep Wine Repeat
Or come say hi at www.eatsleepwinerepeat.co.uk
Until next time, Cheers to you!
-------------------------------------------------
----------------------------------------------
THE EAT SLEEP WINE REPEAT PODCAST HAS BEEN FEATURED IN DECANTER MAGAZINE, RADIO TIMES AND FEED SPOT AS THE 6TH BEST UK WINE MAKING PODCAST