A wine podcast bringing the joys of wine to wherever you are in the world. This is the place for fun, casual wine conversations, with tips, wine facts and wine tasting to inspire your next bottle of wine or vineyard visit. Listen to Winemakers, Sommeliers and Master of Wines who share their extensive knowledge, talking about wine regions and their terroir, their favourite wine pairings and winemaking techniques. This podcast is ideal for anyone starting their wine journey and studying WSET level 1 and 2 or just some great revision for those of you going even further. So grab that wine glass and lets get stuck in!
Episodes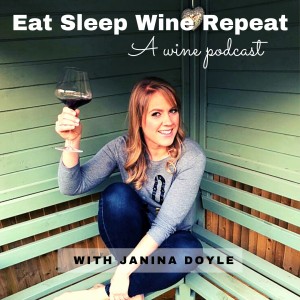 Monday Nov 13, 2023
Monday Nov 13, 2023
To download the transcript CLICK HERE
Today's episode I am taking you on a journey through the sun-kissed landscapes and burgeoning vineyards of Brazil. My guest, wine communicator Luma Monteiro, is a Brazilian native, so we are in safe hands as she tells us her stories and takes us through the wine regions and styles. Luma was the winner of The IWSC Emerging Talent Wine Communicator of the Year 2023 award and was also featured this year in the Top 100 Most Influential People in Drinks by Drinks Retailing. 
In this episode you will learn about the new DOs, an incredible new technique to invert the vines to produce fruit in the winter, It's called Vinhos de Inverno. Luma will suggest the region in which you must visit, and lots of wines for you to try to truly understand the quality of Brazilian wines.
This episode is sponsored by Wickham Wines, A small business themselves focusing on top quality wines. Do yourself a favour, and go check out their online store for their amazing collection! Use the code EATSLEEP10 for 10% off your first order.
If you want to skip ahead:
2.36: Learning about wines in Brazil
4.47: The wine culture in Brazil and how it has changed
6.30: Moscato d'asti style wines
9.30: First top producers of Brazil to possibly try
10.35: Brazilian wine tasting with Tim Atkin MW
15.06: Where are the wine regions of Brazil
19.10: The Dupla Poda wines (Vinhos de Inverno) in the South East of Brazil
25.11: The new DO Altos de Pinot Bandeira
28.46: The grape variety Teroldego
30.14: Other varieties planted
32.09: The sparkling wine styles
33.08: 2-3 day wine itinerary for visiting the Vale dos Vinhedos wine region
37.00: Peterlongo Champagne
38.30: Visting Miolo
(You can listen to Episode 29 with the Brand Ambassador of Miolo HERE)
Any thoughts or questions, do email me: janina@eatsleepwinerepeat.co.uk
Or contact me on Instagram @eatsleep_winerepeat
If you fancy watching some videos on my youtube channel: Eat Sleep Wine Repeat
Or come say hi at www.eatsleepwinerepeat.co.uk
Until next time, Cheers to you!
-------------------------------------------------
----------------------------------------------
THE EAT SLEEP WINE REPEAT PODCAST HAS BEEN FEATURED IN DECANTER MAGAZINE, RADIO TIMES AND FEED SPOT AS THE 6TH BEST UK WINE MAKING PODCAST.