A wine podcast bringing the joys of wine to wherever you are in the world. This is the place for fun, casual wine conversations, with tips, wine facts and wine tasting to inspire your next bottle of wine or vineyard visit. Listen to Winemakers, Sommeliers and Master of Wines who share their extensive knowledge, talking about wine regions and their terroir, their favourite wine pairings and winemaking techniques. This podcast is ideal for anyone starting their wine journey and studying WSET level 1 and 2 or just some great revision for those of you going even further. So grab that wine glass and lets get stuck in!
Episodes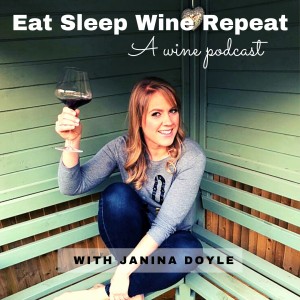 Monday Oct 30, 2023
Monday Oct 30, 2023
To download the transcript CLICK HERE
Today we have our Part two with wined educator Sam Povey, who begins to uncover the jewels of the Languedoc region in the south of France. Sam shares his experiences and recommendations for the best places to visit and wines to try in this diverse and exciting region. With a rich history in wine production, Languedoc has evolved from being known for cheap wine into a region that's investing in quality, embracing modern practices, and producing wines that compete on the world stage. This episode provides a glimpse into the 220,000 hectares of vineyards, Mediterranean landscapes, historic cities like Carcassonne and Nîmes, and the influence of various winds on the region. Sam highlights the diverse grape varieties found in Languedoc, from Syrah and Grenache Noir to Grenache Blanc and Viognier. 
This episode is sponsored by Wickham Wines, A small business themselves focusing on top quality wines. Do yourself a favour, and go check out their online store for their amazing collection! Use the code EATSLEEP10 for 10% off your first order.
If you want to skip ahead:
05.08: Down to the Languedoc Region
07.49: Faugères and the geography of Languedoc
09.54: The growing conditions in Languedoc
12.35: Picpoul de Pinet 
15.17: Sparkling wine 
18.19: Blanquette de Limoux - the traditional method of sparkling wine
22.17: Limoux white oak requirements
24.17: Terrasses du Larzac
25.53: Mas de Daumas Gassac
Any thoughts or questions, do email me: janina@eatsleepwinerepeat.co.uk
Or contact me on Instagram @eatsleep_winerepeat
If you fancy watching some videos on my youtube channel: Eat Sleep Wine Repeat
Or come say hi at www.eatsleepwinerepeat.co.uk
Until next time, Cheers to you!
-------------------------------------------------
----------------------------------------------
THE EAT SLEEP WINE REPEAT PODCAST HAS BEEN FEATURED IN DECANTER MAGAZINE, RADIO TIMES AND FEED SPOT AS THE 6TH BEST UK WINE MAKING PODCAST