A wine podcast bringing the joys of wine to wherever you are in the world. This is the place for fun, casual wine conversations, with tips, wine facts and wine tasting to inspire your next bottle of wine or vineyard visit. Listen to Winemakers, Sommeliers and Master of Wines who share their extensive knowledge, talking about wine regions and their terroir, their favourite wine pairings and winemaking techniques. This podcast is ideal for anyone starting their wine journey and studying WSET level 1 and 2 or just some great revision for those of you going even further. So grab that wine glass and lets get stuck in!
Episodes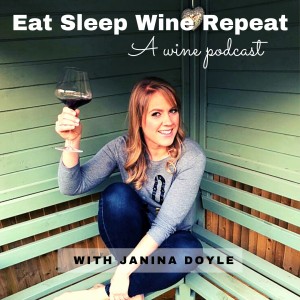 Monday Oct 23, 2023
Monday Oct 23, 2023
To download the transcript CLICK HERE
On Today's episode we have a fascinating conversation with Sam Povey, a celebrated WSET wine educator hailing from London's Bermondsey School. Named one of Harper's 30 under 30, Sam is renowned for his captivating Instagram stories @Sampovey.wine. We dive into the historical intrigue of Burgundy, where a 14th-century duke's ingenious scheme led to the dominance of Pinot Noir. But the real gem of this episode is Sam's personal odyssey, as he trades up from everyday supermarket wines to the world's most exquisite bottles. You'll hear about unique wines like the full-bodied Egri Bikaver from Hungary, New Zealand's top Pinot Noir producers, and Bordeaux's hidden treasures. Prepare to be inspired and educated!
This episode is sponsored by Wickham Wines, A small business themselves focusing on top quality wines. Do yourself a favour, and go check out their online store for their amazing collection! Use the code EATSLEEP10 for 10% off your first order.
If you want to skip ahead:
03.04: How Sam got into Wine
05.38: Sam teaching for the WSET Wine School
08.11: Recreating a Roman style wine
11.26: Demi Skipper traded her way from a bobby pin to a house
13.04: Blind Tasting with Yellow Tail Shiraz
15.18: The fallible human memory
18.41: Domaine de la Romanée-Conti (DRC) and their history
24.04: Different vineyards of Domaine de la Romanée-Conti
25.28: 1 Velo Pour 2, Maison Bertrand Rache, Vin de France 
27.25: Egri Bikaver (the story of 'Bulls Blood') and Olaszrizling, Hungary
30.35: Benjamin Passot, Juliénas, Beaujolais
33.33: The Arches from Blackbook winery, England
36.11: Pierre Yves Colin Morey Bourgogne 
38.10: Pegasus Bay, Primadonna Pinot Noir, Canterbury, New Zealand
42.36: L'if, St Emillion, made by the producer of Le Pin, Pomerol, Bordeaux
44.20: Chateau Montrose, 2nd Growth from Bordeaux
Any thoughts or questions, do email me: janina@eatsleepwinerepeat.co.uk
Or contact me on Instagram @eatsleep_winerepeat
If you fancy watching some videos on my youtube channel: Eat Sleep Wine Repeat
Or come say hi at www.eatsleepwinerepeat.co.uk
Until next time, Cheers to you!
-------------------------------------------------
----------------------------------------------
THE EAT SLEEP WINE REPEAT PODCAST HAS BEEN FEATURED IN DECANTER MAGAZINE, RADIO TIMES AND FEED SPOT AS THE 6TH BEST UK WINE MAKING PODCAST