A wine podcast bringing the joys of wine to wherever you are in the world. This is the place for fun, casual wine conversations, with tips, wine facts and wine tasting to inspire your next bottle of wine or vineyard visit. Listen to Winemakers, Sommeliers and Master of Wines who share their extensive knowledge, talking about wine regions and their terroir, their favourite wine pairings and winemaking techniques. This podcast is ideal for anyone starting their wine journey and studying WSET level 1 and 2 or just some great revision for those of you going even further. So grab that wine glass and lets get stuck in!
Episodes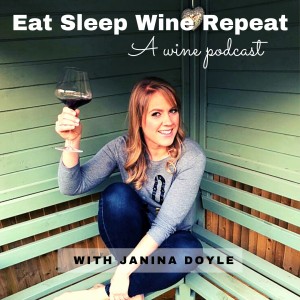 Monday Oct 16, 2023
Monday Oct 16, 2023
To download the transcript CLICK HERE
Today we have part 2 with Henry Jeffreys, where we dig deeper into his book, 'Vines in a Cold Climate" We also delve into the story of Peter Hall, the mastermind behind Breaky Bottom winery nestled in the picturesque South Downs of Sussex. Established in 1974, this winery has a rich history rooted in a time when Chardonnay and Pinot Noir weren't in the limelight, and Seyval Blanc was the star grape variety. I will also be opening up a bottle of the 2015 Seyval Blanc Brut which is the Cuvée Jack Pike, and speaking more about it! 
This episode is sponsored by Wickham Wines, A small business themselves focusing on top quality wines. Do yourself a favour, and go check out their online store for their amazing collection! Use the code EATSLEEP10 for 10% off your first order.
If you want to skip ahead:
1.18: Talking and Tasting the Breaky Bottom Seybal Blanc 'Jack Pike' Brut 2015 £36 mix 6 Wickhams Wines
06.33: Plumpton college 
09.19: The South Downs English Wine Bar at Gatwick South
11.28: Piwi's - The German Varieties
14.15: Wines GFE: Good for the England
16.32: The problem with German Varieties
18.09: Blackbook wines
20.04: Fun Wine labels (Lost in a Field)  and English 'Cult wines' (Charlie Herring Riesling)
24.24: Organic Wine growing in England
27.45: Henry's hardest chapter to write
30.37: The Champagne method vs Prosecco method
34.28: English Vineyard and tourism
36.08: Bob Lindo, the salesman and winemaker
39.04: Vineyards in Essex
Any thoughts or questions, do email me: janina@eatsleepwinerepeat.co.uk
Or contact me on Instagram @eatsleep_winerepeat
If you fancy watching some videos on my youtube channel: Eat Sleep Wine Repeat
Or come say hi at www.eatsleepwinerepeat.co.uk
Until next time, Cheers to you!
-------------------------------------------------
----------------------------------------------
THE EAT SLEEP WINE REPEAT PODCAST HAS BEEN FEATURED IN DECANTER MAGAZINE, RADIO TIMES AND FEED SPOT AS THE 6TH BEST UK WINE MAKING PODCAST