A wine podcast bringing the joys of wine to wherever you are in the world. This is the place for fun, casual wine conversations, with tips, wine facts and wine tasting to inspire your next bottle of wine or vineyard visit. Listen to Winemakers, Sommeliers and Master of Wines who share their extensive knowledge, talking about wine regions and their terroir, their favourite wine pairings and winemaking techniques. This podcast is ideal for anyone starting their wine journey and studying WSET level 1 and 2 or just some great revision for those of you going even further. So grab that wine glass and lets get stuck in!
Episodes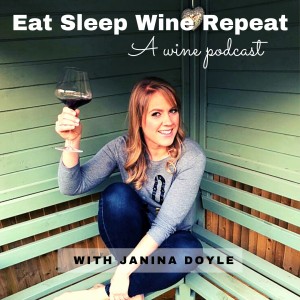 Monday Oct 09, 2023
Monday Oct 09, 2023
To download the transcript CLICK HERE
On today's episode, I had the pleasure of chatting with the incredible Henry Jeffreys, a renowned writer and speaker. With an extensive background in the world of wine, Henry has graced the airwaves of BBC Radio Four and Five, served as the wine critic for The Lady, and been featured in reputable publications like The Spectator and The Guardian. Notably, he was honored with the Drinks Writer of the Year award by Fortnum and Mason in the previous year. Henry has also penned notable books such as 'The Home Bar' and 'The Cocktail Dictionary.'
We delve deep into his latest literary offering, 'Vines in a Cold Climate,' a book that was recently released this year and is readily available on Amazon. Henry has generously narrated the audiobook version himself, making it an excellent choice for those on the go or simply looking to immerse themselves in the narrative. 'Vines in a Cold Climate' offers a compelling exploration of the English wine revolution, spotlighting the remarkable individuals driving this transformation. Tune in as we unravel the fascinating insights and narratives within this captivating work.
This episode is sponsored by Wickham Wines, A small business themselves focusing on top quality wines. Do yourself a favour, and go check out their online store for their amazing collection! Use the code EATSLEEP10 for 10% off your first order.
If you want to skip ahead:
04.26: Why write this book on english wine?
06.45: Make the wine about the people
08.23: Henry's unique wine related experiences
10.24: Going down to Oastbrooke
12.31: Tibetan singing bowls and drinking wine
14.22: Trip to the Mosel
16.26: Henry's first English Wines
18.20: Adding grape juice to wine in the 1970s
20.00: Peter Hall working with Karl Heinz Johner
24.45: The first commercial Vintage of Nyetimber
27.17: Sandy Moss and Mike Roberts visiting Champagne
29.05: Henry and blind tasting
30.38: Champagnes' expensive vineyard prices
33.18: The Charmat Method v Traditonal Method
35.26: More Stories From Henry's research
37.47: Charlie Holland left Gusbourne for Jackson Family Wines
Any thoughts or questions, do email me: janina@eatsleepwinerepeat.co.uk
Or contact me on Instagram @eatsleep_winerepeat
If you fancy watching some videos on my youtube channel: Eat Sleep Wine Repeat
Or come say hi at www.eatsleepwinerepeat.co.uk
Until next time, Cheers to you!
-------------------------------------------------
----------------------------------------------
THE EAT SLEEP WINE REPEAT PODCAST HAS BEEN FEATURED IN DECANTER MAGAZINE, RADIO TIMES AND FEED SPOT AS THE 6TH BEST UK WINE MAKING PODCAST