A wine podcast bringing the joys of wine to wherever you are in the world. This is the place for fun, casual wine conversations, with tips, wine facts and wine tasting to inspire your next bottle of wine or vineyard visit. Listen to Winemakers, Sommeliers and Master of Wines who share their extensive knowledge, talking about wine regions and their terroir, their favourite wine pairings and winemaking techniques. This podcast is ideal for anyone starting their wine journey and studying WSET level 1 and 2 or just some great revision for those of you going even further. So grab that wine glass and lets get stuck in!
Episodes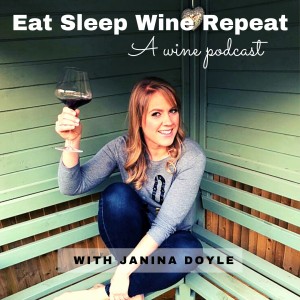 Monday Oct 02, 2023
Monday Oct 02, 2023
To download the transcript CLICK HERE
Today we have part 2 of our chat with Amelia Singer. In this episode we're digging deeper into Amelia's extensive wine journey, her valuable insights, and her intriguing collaboration with Concha y Toro, the Chilean wine powerhouse. Amelia shares her experiences, opinions on the wine world, and offers some invaluable wine advice. Additionally, discover the fascinating wine region of Limari as inspired by Amelia's unique collaboration. 
This episode is sponsored by Wickham Wines, A small business themselves focusing on top quality wines. Do yourself a favour, and go check out their online store for their amazing collection! Use the code EATSLEEP10 for 10% of your first order.
If you want to skip ahead:
01.17: The wine region, Limari
04.05: Amelias' Concha Y Toro project
07.36: Janina working for a Chilean Winery
09.21:  Amelia chairing for Oz Clarke and Jancis Robinson
11.12: South African Wines
13.34: Learning about wine tasting
17.22: Kanye West and Spanish Wine
23.15: Amelias' wine courses
25.22: Ordering wine with food
27.09: Jancis Robinson wine glasses
28.36: The Wine Bible, by Karen McNeil
29.30: What wine would you be?
31.24: #whitewineglassemoji 
ALSO, Amelia is launching her very own podcast on the 8th of November, sign up for the newsletter now to be notified the second it does! You can sign up here
You can also follow her on Instagram @amelias_wine
Any thoughts or questions, do email me: janina@eatsleepwinerepeat.co.uk
Or contact me on Instagram @eatsleep_winerepeat
If you fancy watching some videos on my youtube channel: Eat Sleep Wine Repeat
Or come say hi at www.eatsleepwinerepeat.co.uk
Until next time, Cheers to you!
-------------------------------------------------
----------------------------------------------
THE EAT SLEEP WINE REPEAT PODCAST HAS BEEN FEATURED IN DECANTER MAGAZINE, RADIO TIMES AND FEED SPOT AS THE 6TH BEST UK WINE MAKING PODCAST