A wine podcast bringing the joys of wine to wherever you are in the world. This is the place for fun, casual wine conversations, with tips, wine facts and wine tasting to inspire your next bottle of wine or vineyard visit. Listen to Winemakers, Sommeliers and Master of Wines who share their extensive knowledge, talking about wine regions and their terroir, their favourite wine pairings and winemaking techniques. This podcast is ideal for anyone starting their wine journey and studying WSET level 1 and 2 or just some great revision for those of you going even further. So grab that wine glass and lets get stuck in!
Episodes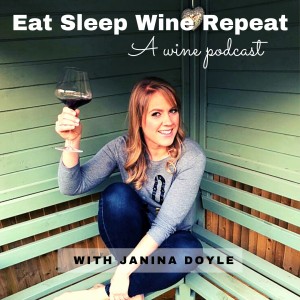 Monday Sep 25, 2023
Monday Sep 25, 2023
To download the transcript CLICK HERE
Today is part 1 with Amelia Singer, an international award-winning wine educator and communicator. In this episode, we're diving headfirst into the enchanting realm of Austrian wines. Together, we'll explore the three red grape varieties: Zweigelt, Blaufränkisch, and Sankt Laurent, as well as the revered white grape, Grüner Veltliner. Tune in as we delve into the unique characteristics of each grape and learn about Amelia's Austrian escapades, her experiences at the Vienna Wine Fair, and engaging wine-filled anecdotes. It's a delightful blend of knowledge, travel stories, and of course, a lot of wine talk. Stay tuned for an invigorating and insightful conversation that will surely leave you craving more! 
This episode is sponsored by Wickham Wines, A small business themselves focusing on top quality wines. Do yourself a favour, and go check out their online store for their amazing collection! 
If you want to skip ahead:
02.49: Why are we doing Austrian wine
04.16: Amelia's experience at the Vienna Wine fair
06.01: Vienna is a wine region
09.51: Amelia's dad, her CEO
11.31: Janina's trip to Vienna
14.44: The Rotgipfler grape variety
18.18: Wickhams wines
20.18: Grüner Veltliner 
21.31: Steinfeder, Federspiel and Smaragd (Vinea Wachau's quality trademarks)
23.15: Lenz Moser, the winemaker making wine in China
28.30: No food traditions without wine
29.56: Zweigelt, a crossing of Blaufränkisch and Sankt Laurent
33.29: Tasting notes and aromas of Zweigelt
34.28: Amelia's wine trip to Romania (see below for links to podcasts on Romanian wine)
35.31: Tasting notes, aromas and tannins of Blaufränkisch
38.25: Decent and reasonably priced wines in Austria
41.10: Sweet wines of Austria
43.50: Austrian Premium red wines
Below you will find links to part 1 and part 2 of the episodes on Romanian Wines:
Ep 121: Wines of Romania with Philip Cox, Owner of Cramele Recas (Part 1)
Ep 122: Wines of Romania with Philip Cox, Owner of Cramele Recas (Part 2)
ALSO, Amelia is launching her very own podcast on the 8th of November, sign up for the newsletter now to be notified the second it does! You can sign up here
You can also follow her on Instagram @amelias_wine


Any thoughts or questions, do email me:  janina@eatsleepwinerepeat.co.uk
Or contact me on Instagram @eatsleep_winerepeat
If you fancy watching some videos on my youtube channel: Eat Sleep Wine Repeat
Or come say hi at www.eatsleepwinerepeat.co.uk
Until next time, Cheers to you!
-----------------------------------------------------------------------------------------------
THE EAT SLEEP WINE REPEAT PODCAST HAS BEEN FEATURED IN DECANTER MAGAZINE, RADIO TIMES AND FEED SPOT AS THE 6TH BEST UK WINE MAKING PODCAST