A wine podcast bringing the joys of wine to wherever you are in the world. This is the place for fun, casual wine conversations, with tips, wine facts and wine tasting to inspire your next bottle of wine or vineyard visit. Listen to Winemakers, Sommeliers and Master of Wines who share their extensive knowledge, talking about wine regions and their terroir, their favourite wine pairings and winemaking techniques. This podcast is ideal for anyone starting their wine journey and studying WSET level 1 and 2 or just some great revision for those of you going even further. So grab that wine glass and lets get stuck in!
Episodes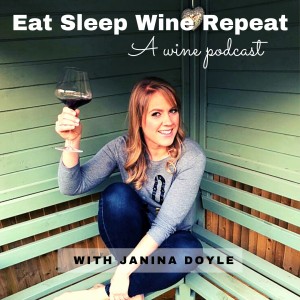 Monday Sep 18, 2023
Monday Sep 18, 2023
To download the transcript CLICK HERE
WE ARE BACK WITH SEASON 4. And I am going to take you on a three-day trip around Rias Baixas. We will be looking at the food, the regions, the grapes, the vine training methods and the beaches you can visit. I hope this episode will motivate you to go and visit this lusciously green area, and have you reaching for a refreshing bottle of Albariño.
Introducing my sponsor for this season, Wickhams Wine, who aligns so well with me. A small business themselves focusing on top quality wines. With their help, I am going to be able to turn this podcast from a one women band to a team that will be able to help me grow this podcast. Do go and explore their online site to get your hands on some seriously well-chosen wines.
If you want to skip ahead:
3.39: Why visit Rias Baixas
5.38: The location and terroir
8.01: Visiting Santiago de Compostela
11.21: Visiting Martin Codax in Val do Salnes
15.11: The plantings and average winery size
17.40: Different styles of Albariño and pairing Lias wines with Cebreiro cheese
21.00: Late harvest and Botrytis Albariño wines – what is Botrytis?
24.17: Rias Baixas – the women's land!
27.19: Cambados for lunch
29.14: Visiting Pazo Baion in Val do Salnes
34.48: A must visit: Combarro
37.18: Local food of Galicia
38.01: Beach recommendations
41.05: Visiting Adega Entre Os Rios (a rural stay as well as a winery)
48.15: The grape variety Reposa
51.55: The 5 subregions
52.58: The other grapes of Rias Baixias
If you like this style of episode and want to listen to more itineraries when I visit wine regions, get in touch and let me know by email janina@eatsleepwinerepeat.co.uk
Or contact me on Instagram @eatsleep_winerepeat
If you fancy watching some videos on my youtube channel: Eat Sleep Wine Repeat
Or come say hi at www.eatsleepwinerepeat.co.uk
Until next time, Cheers to you!
-----------------------------------------------------------------------------------------------
THE EAT SLEEP WINE REPEAT PODCAST HAS BEEN FEATURED IN DECANTER MAGAZINE, RADIO TIMES AND FEED SPOT AS THE 6TH BEST UK WINE MAKING PODCAST